ULIPs and Rider Options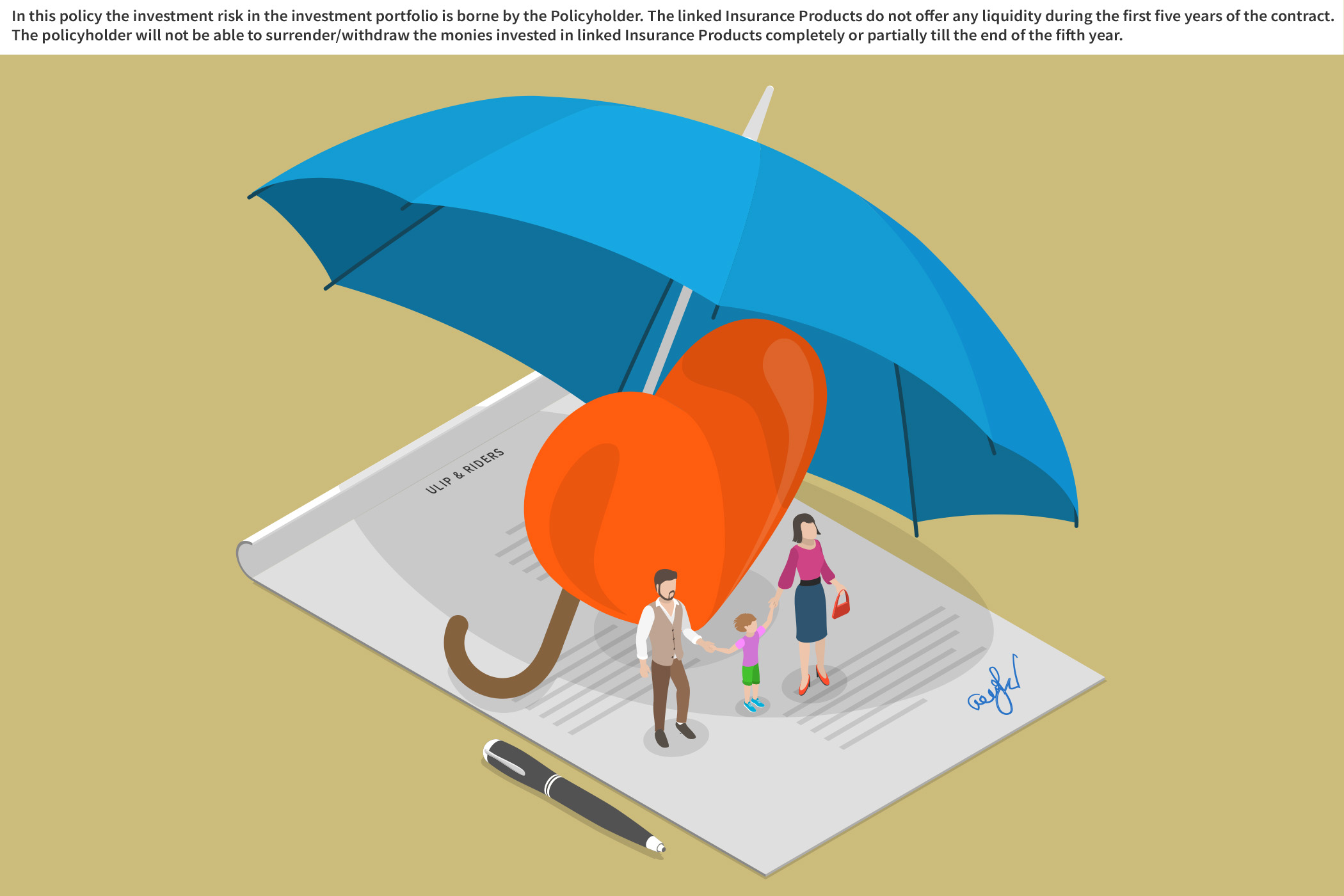 Life can be unpredictable, full of surprises, twists, and turns, and it can be challenging to prepare for every eventuality. And when it comes to protecting your loved ones, it is always better to be prepared than sorry. It is thus imperative to consider all options available to protect yourself and your family from unforeseen circumstances. One way to do this is by adding insurance riders to your ULIP policy.
Riders may be treated as an extension of your policy and protection – they allow you to customise and add extra benefits to your coverage to better fit your needs. These riders can cover eventualities like death, disability, and more and provide a holistic safety net. .
In this article, we'll explore the basics of a ULIP investment and also delve into the different types of riders available to policyholders in India. First, let's look at what ULIPs are and how they work.
What is ULIP?
ULIPs stands for Unit Linked Insurance Plans. They are a type of life insurance plan that combine the benefits of insurance with those of investments. ULIPs allow policyholders to invest in various funds, like equity, debt, and balanced funds. Of the premiums paid, a part is allocated toward insurance, and the remaining is used to invest in funds that grow over time based on the performance of underlying assets.
One of the most significant advantages of a ULIP policy is its flexibility. Here the policyholder can not only choose from a range of investment options and funds but also switch between funds as per their changing needs and risk tolerance. ULIPs also offers its policyholders the option to add riders for extra coverage.
Let's read about them below in detail.
Types of ULIP riders
ULIP riders are add-on benefits that can be purchased for a nominal cost along with a ULIP policy to enhance or add extra benefits that might not be present in the original plan. These riders, which are optional components, can help provide the policyholder with an extra layer of protection against unforeseen circumstances.
Let's explore a few riders below.
Emergencies and unforeseen circumstances can disrupt your life. Imagine a fatal accident or illness that impacts your ability to earn. Now, because of this, you may be unable to make future premium payments, thereby affecting your policy. But, when you opt for the premium waiver rider, in case of unforeseen circumstances, illness, or accidents, or even the death of the Policyholder all future premiums are waived off, with coverage (either or both insurance and investment) continuing till maturity.
This ensures you and your loved ones are protected and financially secure without any strain. However, it is imperative that you read the fine print and terms and conditions of your ULIP policy to understand the rider's benefit fully.
A fatal accident can leave your loved ones with not just emotional distress but also unforeseen expenses and heavy financial burdens.
You can opt for the accidental death rider to ensure your family is not burdened financially post your demise. This rider provides extra financial coverage in case of your untimely demise, besides the death benefit of the original policy.
Accidental disability rider
The accidental disability rider focuses on disability arising from an accident. If an accident leaves you incapacitated, this rider shall provide you with a lump-sum amount, subject to policy T&C. The same can cover your daily expense and relieve financial strain.
Critical illness can be financially draining, with medical bills and other costs adding up quickly. Also, in most cases, a regular health insurance plan may not suffice or cover the expenses attached. In such cases, adding the critical illness rider may be a wise move.
If you are diagnosed with a critical illness, this rider provides extra financial coverage, ensuring your needs are taken care of without negatively impacting your savings or burdening your family.
Family income benefit rider
This rider offers a way for policyholders to provide for their family in case of untimely death, disability, or illness. Suppose an insured person deals with an accidental permanent disability or has had a first diagnosis of critical illness. In that case, this rider pays out a regular income which could be in any frequency monthly / quarterly or annually, typically a certain percentage of the rider sum insured, for a period as specified in the rider terms and conditions.
This rider ensures that your loved ones have a financial cushion and regular income source in difficult times.
Riders can be a great way to derive the maximum value out of your ULIP investment. However, do note that all ULIPs don't offer these riders. It is important to check your plan's fine print to see which riders are available to you. Additionally, riders may have many exclusions and limitations. So, read all T&Cs carefully before adding riders to your ULIP policy.
Summing Up
In conclusion, ULIPs are a versatile financial product that combines the features of insurance and investments into one and also offers riders for additional benefits and coverage. These riders can help provide for your family in case of unforeseen circumstances like accidents, death, or illness, protecting you and your loved ones financially. Do read the policy details carefully before investing in any type of plan or rider.
AN March 43/23
Leave a Reply