What is an Account Aggregator(AA)?
India's Reserve Bank of India has launched a new framework called the (AA) framework. It is created with a vision to enable seamless data sharing between regulated entities with customer consent. The information transfer is carried out securely, where the data is encrypted and digitally signed. The AA can also enable consumers to share the information or even withdraw it selectively. You can use your financial data to get access to multiple financial services for your individual or business needs.
Aviva Life Insurance Company India Limited(AVIVA Life) shall act as both Financial Information Provider (FIP) as well as Financial Information User (FIU) in the AA ecosystem.
To know more about AA ecosystem, please visit https://sahamati.org.in/what-is-account-aggregator/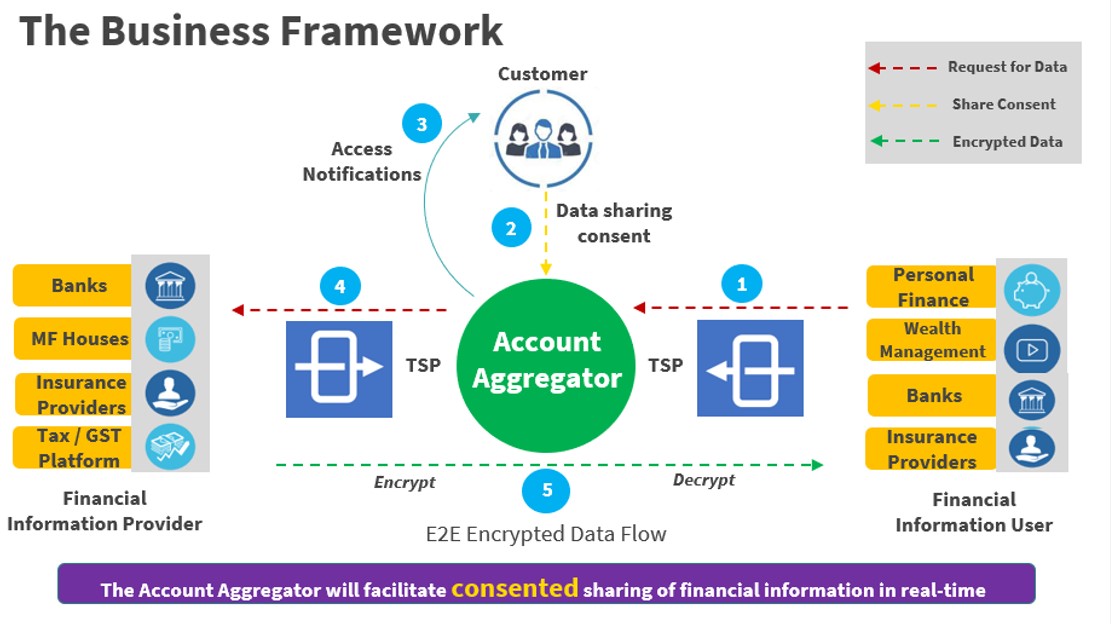 Responsibilities of a FIU:
To ensure that any data received from FIPs through an AA is only used for purpose mentioned to the customer while taking their consent.
To not share any data received from FIPs to and third party unless explicit consent is received from the customer
To only retain any Data received from an FIP for as long as is necessary to fulfill the purpose for which the data requested and in order to comply with applicable laws.
AVIVA Life has a tie-up with the FinSec AA Solutions Private Limited (OneMoney) AA as FIU
Responsibilities of a FIP
To ensure that their systems are wholly interoperable so that they can work with every AA in the ecosystem.
To share financial information strictly upon receiving express consent from the customer.
To ensure that any revocation of consent by a customer communicated by the AA is stringently implemented.
AVIVA Life has a tie-up with the FinSec AA Solutions Private Limited (OneMoney) AA as FIP
Customer Rights and Obligations
Only provide their consent after thoroughly verifying the details of the request to transfer data and any consent so provided shall be binding on the Customer;
Customers can choose which accounts they want to link, and share their data at the time of giving 'consent' via one of the AA.
Customers are entitled to revoke their consent for requests to transfer Data that have not yet been fulfilled.
Notify the AA immediately upon becoming aware of unauthorized access or usage of their accounts.
You may contact us in case of any queries through Email: customerservices@avivaindia.com or Call: 1800-180-22-66
Grievances and Escalations
In case you are dissatisfied with our service, we have in place an internal mechanism to ensure effective and timely resolution of your complaints.