Your life will never be the same again!
As a young and new parent, even as you plan ahead to celebrate Ganesh Chaturthi, you may want to herald new beginnings by opting for plan to that will help you secure the future of your child. So, along with eco-friendly idols, staphna, visarjan of Ganpati, and heightened celebrations, it would be a good idea to invest in a well-researched solution right away.
Reasons Why It's Important to Consider Purchasing Child Plans
Once you don the role of a parent, it is never too early to start thinking about the upcoming financial responsibilities and ways of tackling them. Be it for your child's education, higher studies, marriage, start up, or other major foreseeable expenses, well-researched investments in child-friendly plans will take care of your financial worries to a large extent. The child plan can be used to provide several life benefits as your kid grows older. These benefits would include:

Expenses of up-bringing, early schooling.
College fees or expenses related to studying abroad are impacted by the increasing costs of inflation. By purchasing insurance early in the child's life, the impact of inflation can be negated to a large extent through the returns coming in Paying for his or her wedding.
By buying an insurance policy early in your child's life, and paying premiums in time, you can insure that he or she will have secure coverage in adulthood.
Life insurance premiums for children are quite affordable. They give you firm grounds to lock in the premium rates for the entire life of the policy.
Child plans differ from one company to another. It is recommended that you research upon and compare the features and riders attached to different policies to gift your kid the best one on the racks.
The expenses related to your financial goals will be different in years from now. The cost of higher education is shooting up fast. Assuming an average running inflation rate of 10%, a four-year engineering course that costs Rs 8 lakh today will cost approximately 50 lakh by 2035.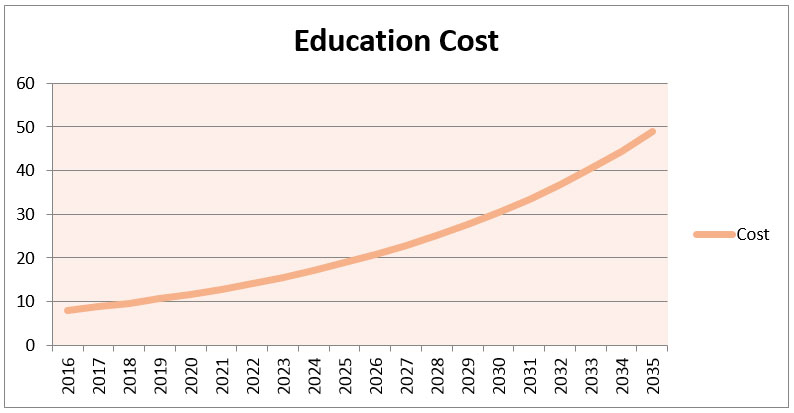 Source: http://timesofindia.indiatimes.com/business/india-business/Save-for-your-childs-education/articleshow/52180613.cms
What is the remedy? As far as a good child plan is concerned, you may opt for one such plan that offers adequate returns to fitfully combat future education costs.
Way forward
There are several plans for children these days. With incredulous features to their credit, they often blend the best of travel, health, accident insurance, child plans, etc. Go for the plan that suits your immediate and future needs to the hilt and make a new beginning this Ganesh Chaturthi.
Related Articles:
Opting for a Child Plan: The best way forward
Child Insurance Plans: Best Purchased when Kids are Still Young
Actor, pilot, doctor or architect? Secure your child's financial future today!