Taking care of your heart is not just a choice but a necessity today. Fast-paced life, incessant pressures of work and family responsibilities stress our heart.
While many of us have taken some steps towards staying healthy, here are some simple things that you can regularly do to keep your heart young and healthy.
1. Get Going
Get moving! Even moderate exercise can be a mood booster and a stress buster. Set small goals like 30 minutes of exercise, 4-5 days a week. Take 2-5 minute breaks during the day. Find excuses to walk up and down the stairs or take the longer route to the meeting room. Staying active can greatly reduce the risk of a heart disease.
2. Watch what you eat
Eat healthy to have a healthy heart. A balanced diet includes fresh fruits and vegetables as well as whole grains. Reduce the amount of fat and sugar in your diet by making healthy choices. Carry a bowl of curd to office along with some fruits or vegetable salad. Resist the temptation to pick up namkeen/chips at the canteen.
3. Kick the butt
Smoking is one of the biggest reasons for coronary heart disease. Quit now! Talk to a counsellor. Use a nicotine patch or chewing gum. Begin by taking small steps. Start off by reducing your daily intake and go on to make some days smoking free. And then just QUIT! Remember, a year of being smoke-free reduces your risk of having a heart attack, to half that of a smoker.
4. Watch your Alcohol Intake
Apart from being high on calories, alcohol can have a noticeable impact on your waistline. Regular intake of alcohol is linked to serious health issues, including heart diseases. It's time to limit your intake of alcohol.
5. Monitor your Salt Intake
Ready-made foods are packed with high levels of salt. Always check food labels for it: a food is high in salt if it has more than 1.5g salt (or 0.6g sodium) per 100g. An average adult should eat less than 6g of salt a day in total – which is about one teaspoon. Keeping a check on your salt intake will also help you maintain a healthy blood pressure level.
6. Get Regular Check Ups
Give yourself a yearly gift. Schedule a health check-up on your birthday and gift to your loved ones. The check up should include a basic BP, cholesterol and glucose checks. In case you are overweight, you must follow your healthcare professional's recommendations and follow prescribed medications.
7. Check your Family History
Heart disease has a big hereditary footprint. You can be at risk of developing coronary heart disease if a close relative suffers from a heart condition due to smoking, high cholesterol, obesity, high BP, diabetes or lack of physical activity. The good part is that even if you are pre-disposed to heart disease, you can avoid developing cardiovascular disease by choosing a healthy lifestyle and regular health checks-ups.
8. Go Gadget Free
Allocate some time during the day when you do not check your phone for emails, FB, Instagram, Twitter or Candy Crush. Let this 20-30 minutes be your "me time". Time when you unwind and are not wound up about the next work email.
9. Get Stress Free
Meditation is one of the best ways to do away with stress. A 20 minute meditation session will help you feel relaxed and refreshed. It helps to reduce anxiety, tension and negative emotions. In the middle of the day, take a break and look around. Appreciate the people in your life. Count your blessings.
10. Laugh Laugh Laugh
Laughter is the best medicine indeed! More than enough studies and research have shown that staying happy is the best therapy that anyone ever needs. Laughter is an instant remedy to release pressure and kill stress. Read a joke. Share it with friends/colleagues. Stay positive.
Also Read from Other categories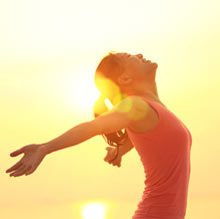 Getting Closer To A Healthy You
2 years 4 months ago
Change is daunting for most people. It's much easier to just stay...
Read article...
5 Simple Foods To Keep Your Heart Healthy
2 years 4 months ago
Leading a healthy lifestyle seems to be quite a task these days. A...
Read article...